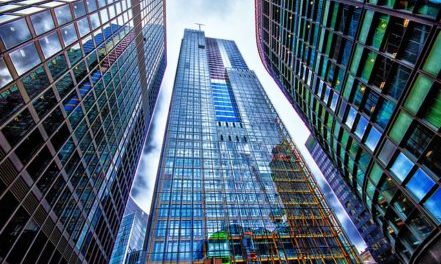 Plate glass was initially manufactured in the UK in the thirteenth century by a method which produced 'broad sheet glass'. Molten glass was blown into a long tube, the ends were severed and the cylindrical glass form was split and flattened. This glass was nothing like the perfectly clear float glass of today, but was used in leaded lights.
Over the centuries, other techniques were developed but it took until 1952 for a revolutionary, cost-effective process to be invented and thereby provide us with the high quality plate glass we have today. Pilkington Brothers Ltd. was founded in 1826 in St. Helen's on Merseyside and by 1860 it was producing 75% of the UK's plate glass. It became Japanese-owned in 2006 but is still our largest glass manufacturer.
Sir Alastair Pilkington (1920-95) and Kenneth Bickerstaff devised 'the Pilkington process' which is an automated method of heating the ingredients in a huge furnace and floating the resulting liquid on top of molten tin. It does not mix with the tin, which is denser and does not boil at the specified temperature, so this provides a flat bottom with gravity providing the flat top. The glass sheet is gradually cooled and rolled off, to be machine-cut and processed.
(Image: Alan Wright at pixabay.com)