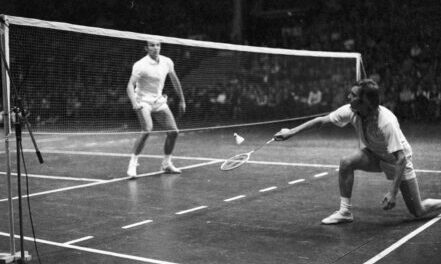 Not only did the 10th Duke of Beaufort (1900-84) inaugurate the Badminton Horse Trials, but his grandfather the 8th Duke (1824-99) also introduced the racquet sport of badminton, both named after their Badminton estate in Gloucestershire. Today, badminton is one of the UK's most popular sporting pastimes, played in leisure centres and halls all over the country and promoted by around 2,000 local clubs.
The ancient game of 'battledore and shuttlecock' first took root at Badminton in 1863, then went with the 8th Duke (Henry Somerset) on his Army posting to 'British India'. There it was played outdoors by the officers, who added a high net over which the shuttlecock must fly back and forth without touching the ground. A woollen ball was sometimes used instead of a shuttlecock and the name 'badminton' was apparently already being applied. This became widespread in 1873 on the Duke's return.
By 1887 there were standardised rules and these were published in 1893 by the Badminton Association of England. Badminton joined the Commonwealth Games in 1966 (England 37 medals, Scotland 1, Wales 1) and the Olympics in 1992 (Team GB just 3 medals, Far East countries dominating). The Thomas Cup for men and the Uber Cup for women are named after legendary British players of the sport.
(Image featuring English champion Derek Talbot, MBE (right) in 1973: Friedrich Magnussen at Wikimedia Commons / CC BY-SA 3.0)