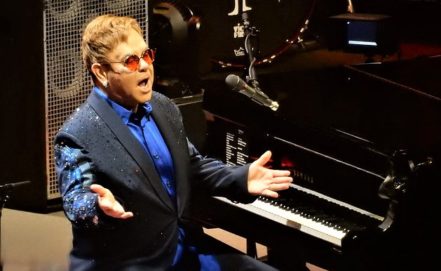 Sir Elton John, CBE, was born in 1947 in Middlesex and is an award-winning, record-breaking musical phenomenon. Not only was he playing the piano from age 3, but he has been touring since the age of 17. His tribute song 'Candle in the Wind 1997' which he played at Princess Diana's funeral and never again, was the fastest and biggest-selling single since Bing Crosby's 'White Christmas'. All the profits went to charity.
He met his lyricist, Bernie Taupin, in 1967. From 1970 to 1976 they had hit after hit, with chart-toppers such as 'Your Song', 'Crocodile Rock', 'Rocket Man', and 'Saturday Night's Alright for Fighting'. There was already a 'Greatest Hits' album by 1974! Elton was an immediate success in the USA and developed a flambuoyant, showman-style act.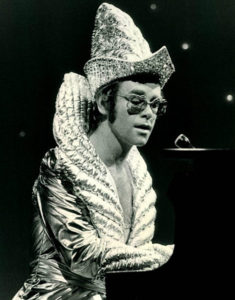 Since then, his keenness to collaborate with other musicians ~ John Lennon, George Michael, Stevie Wonder, The Who, Billy Joel and Nik Kershaw, to name but a few ~ has been part of his continuing success. With Tim Rice he wrote the music for Disney's Lion King animation, for which he received an Oscar in 1994. His three-year farewell tour round the world, ending in 2020, is a measure perhaps of how difficult stepping away will be.
(Top image [cropped]: Cindy Andrie at Flickr.com / CC BY-NC-ND 2.0)