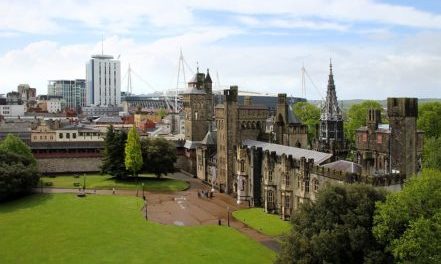 Until the Industrial Revolution, Cardiff was just a small town, having a population of only 1,870 in 1801 for example. Another eyebrow-raiser is that Cardiff is a relative newcomer as a capital city. Several Welsh towns had historic claims, but it is said that Queen Elizabeth II forced the issue of choosing a capital when she planned her first state tour. Cardiff's official designation was announced in 1955.
Situated beside the wide River Severn estuary, its favourable location drew the Romans to build a timber fort there. This became the site of a Norman castle in the 1100s and a village sprang up around it. Eventually, industrial growth saw the population climb to 164,333 in 1900 and five years later it was awarded city status.
Cardiff's ranking at that time as the world's busiest port for the export of coal marks it out as a key player in the foundation of our modern world. Its dockland district of Cardiff Bay was formerly known as Tiger Bay and attracted many foreign workers. Today, Cardiff is the home of the National Assembly for Wales and the Welsh national sports arena, the Principality Stadium. Shopping arcades, parks and dockland redevelopment have largely replaced the factories and warehouses.
(Image: pxfuel.com / CC0 Public domain)