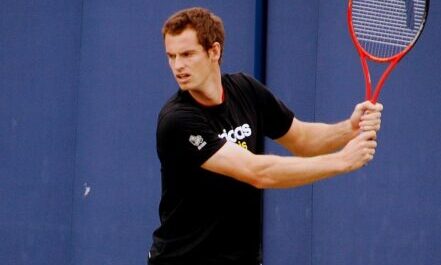 Sir Andrew Barron Murray (1987-) is the UK's most successful professional tennis player since Oxford-born Tim Henman (1974-) reached the world no.4 spot briefly in 2004.  Murray achieved the same ranking four years later but he remained in the top four over a 9-year period from 2008 to 2017 for all but approximately 70 weeks. He was no.1 from November 2016 to August 2017.
Among his big wins are two Wimbledon men's singles titles (2013, 2016), a U.S. Open men's singles title (2012) and two Summer Olympics men's singles Gold medals (2012. 2016).
Coached initially by his mother Judy, he showed such promise that he went to Barcelona for further training when he was 15. He turned professional in 2005 after being world no.1  junior in 2004. His brother Jamie (1986-) is also a successful tennis player but he concentrates on doubles, both men's and mixed. Andy and Jamie have rarely partnered in doubles but they were both in the British team which won the 2015 Davis Cup.
Andy was born in Glasgow but grew up in Perthshire in a small town called Dunblane which in 1996 was the scene of the UK's worst mass shooting incident, when more than 100 bullets were let loose on the innocent children in the brothers' primary school, killing 16 of them and a teacher.
(Image [cropped]: Carine06 at Flickr.com / CC BY-NC 2.0)