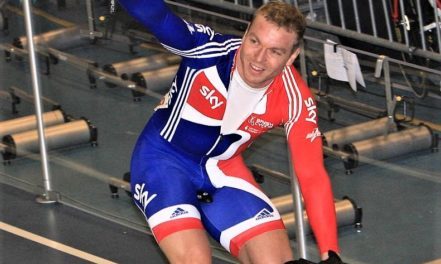 British cycling's modern-day success is due in large part to Sir Chris Hoy, MBE (1976-). Born in Edinburgh, he joined his first cycling club at age 14 and nine years later won the first of many medals at world-class level. Hoy has won six Gold and one Silver Olympic medals, the most of any Briton in any sport and the most by anyone in cycling. He was Team GB's flag-holder at the opening ceremony of the 2012 Olympics.
At the World Championships Hoy has won eleven Gold, eight Silver and six Bronze medals in team, keirin and individual track cycling events. His Olympic distinctions were spread over four Summer Games in 2000, 2004, 2008 and 2012. He also has two Gold and two Bronze Commonwealth Games medals. Another first came in 2009 when both he and his mother Carol received MBEs (hers was for services to healthcare) in the same Honours List, a unique coincidence.
Hoy retired from cycling in 2013. With a lifelong enjoyment of various other sports, including rowing and rugby, he then moved on to GT motor racing and entered the 2016 Le Mans 24-hour race, finishing 17th. He has also co-authored a series of children's books about a boy who dreams of being a champion cyclist.
(Image [cropped]: Velo Steve at Wikimedia Commons / CC BY-SA 2.0)