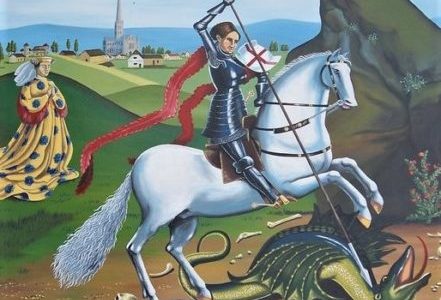 Saint George is the patron saint of England and St. George's Day is on 23rd April. Unlike the other three patron days of the UK, this one is sadly very low-key as many people today feel awkward about English patriotism. George is also the patron saint of many other countries and never came to England. His legend tells that he slayed a dragon to rescue a princess, but was himself killed by the Romans for being a Christian.
Before George's selection there were two other contenders ~ St. Edmund, king of East Anglia, who was murdered by the Vikings, and St. Edward the Confessor, a very religious king of England. However, it was King Edward III who really promoted St. George to top spot. He reigned from 1327 to 1377 and was highly successful in adopting long-range weaponry for the English army and making them invincible in Europe.
Taking a lead from the knights of The Crusades, including his grandfather, he flew St. George's flag into battle ~ "Saint George!" was the battle-cry ~ and it subsequently became a symbol not only of Edward's effective rule, but also of English bravery, courage, honour and national pride.
(Image: Maigheach-gheal at geograph.org.uk / CC BY-SA 2.0)