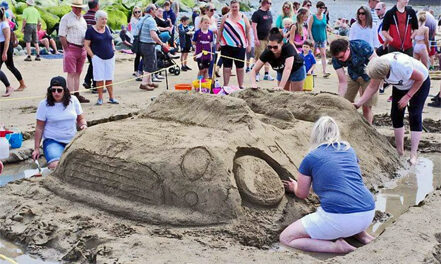 National Sandcastle Competition
North Devon is blessed with many long, sandy beaches, three of which have played host to the UK's National Sandcastle Competition. This annual event is a fund-raiser for the North Devon Hospice in Barnstaple and began around 1995 on the popular 3-mile stretch of golden sand at Woolacombe. It then moved a little further down the coast to Croyde, where it remained until the whole thing took a 4-year hiatus in 2015-18.
In 2019 it reappeared even further down the Devon coastline, at Westward Ho! (the only British place-name with an exclamation mark). Thousands of visitors attend the event, now held in June (August previously) and anyone can enter, even businesses. Adult teams are limited to six members, children's to four. Adults have three hours to create their masterpieces while children have one hour. Everyone must bring their own tools, which must be basic, i.e. no power tools, diggers or scaffolding!
Each team is allocated a 23x23ft plot of sand and must not encroach upon or steal from other plots. However, while 'competition' is in the name, fun is the objective, all in a good cause. Prize-winning designs have included Daleks, dragons, turtles, spaceships, Simpsons characters, action heroes.. oh, and castles, of course.
(Image: www.visitwestwardho.co.uk / CC0)