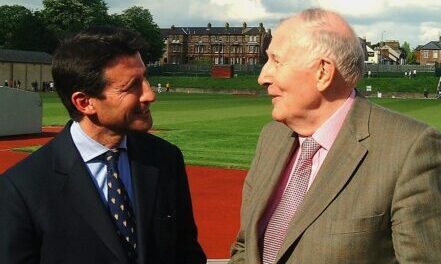 Running the sub-4-minute mile
Sometimes called 'The Dream Mile', this feat is said to have begun with aristocrats betting on their respective footmen to race each other. It is doubtful whether any of them achieved a sub-4-minute mile but more than 1,500 athletes have done just that in recent history. Interestingly, there is an optimum age attached to this middle-distance track event and it has reduced to 22 currently. In fact, Lord Sebastian Coe (1956-) from London was 22 when he broke the world record in 1979 with 3:48.95.
Nevertheless, British milers appear to favour age 24 or 25 for their peak performances. Some examples are:-
3:59.40 in May 1954 at Oxford: 25-year-old Sir Roger Bannister (1929-2018) from Middlesex famously achieved the first sub-4-minute mile.
3:58.80 later in 1954 at Vancouver: Bannister, still 25, bettered his previous time.
3:47.33 in 1981 at Brussels: now aged 24, this was Coe's personal best.
3:48.40 in 1981 at Koblenz: 25-year-old Steve Ovett (1955-) from Sussex improved on his world record of the previous year.
3:46.32 in 1985 at Oslo: 24-year-old Steve 'the Jarrow Arrow' Cram (1960-) from Gateshead took the world record with this amazing time.
3:49.20 in 1988 at Oslo: 25-year-old Yorkshireman Peter Elliott.
3:49.38 in 2008 at Oslo: 25-year-old Andy Baddeley (1982-) from Merseyside came from the back in a spectacular win.
No woman has ever come close to running a sub-4-minute mile.
(Top image of Coe (L) and Bannister (R) in 2004 at the Oxford track: GooglerW at Wikimedia Commons / CC BY-SA 4.0)