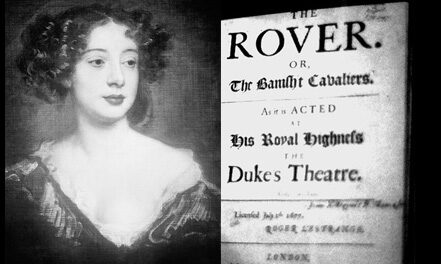 Given that youth sub-cultures (e.g. punk, hippy, emo, rocker) deliberately set out on an irreverent, anti-establishment path, Restoration Comedy (1660-c.1700) can be seen as an early example. After Oliver Cromwell's staid Puritanical rule, in which theatres were forced to close in 1642, the return of the flamboyant, pleasure-seeking King Charles II (1630-85) in 1660 inevitably opened the floodgates to young playwrights' mischievous revelry in subverting society's norms.
Their comedy plays were immoral, bawdy and rude. The plots mocked refined standards and appealed especially to young aristocratic circles, as they portrayed their way of behaving and talking, thereby re-introducing the line between them and the peasants. The topics were love, courtship, marriage and much infidelity. Conflict was represented in a 'cape-and-sword' swashbuckling style.
Aphra Behn (1640-89) from Kent, our first professional female writer, joined the ranks of Restoration playwrights with plays such as 'The Amorous Prince' (1671) and 'The Rover' (1681). Actresses also emerged for the first time, even playing male roles in figure-revealing breeches, much to the enjoyment of the men in the audience! Indeed, Nell Gwyn (1650-87), who played in 'The Rover', was an actress who famously became one of Charles II's mistresses.
The pendulum swung back gradually to morality and serious drama after Charles died.
(Images LtoR: Nell Gwyn & Aphra Behn's 'The Rover' title page / Public domain)