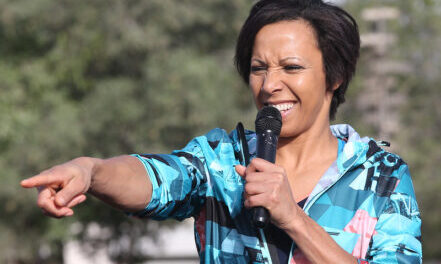 Dame Kelly Holmes, MBE (1970-) is known for campaigns for physical and mental health, particularly via her charity, the Dame Kelly Holmes Trust, aimed at helping disadvantaged youngsters. However, she is best known for being Britain's double Gold-winning 800m. and 1,500m. runner at the 2004 Summer Olympics in Athens.
She was born in Kent and opted for a career in the British Army, where she became a Physical Training Instructor and reached the rank of Sergeant. Watching the 1992 Summer Olympics she spotted a runner whom she had previously beaten in amateur competition and was inspired to enter the international stage herself. For the next five years, she ran in middle-distance track events while still serving in the Army, but in 1997 she received the funds to concentrate full-time on running. After coming through several bouts of injury, it all came together for her in 2004.
Her trademark style was to come from the back and take the lead on the final bend. She has said that her role model was Sebastian Coe (1956-), now a life peer, who still holds the UK record for the men's 800m.. In parallel with that, Dame Kelly clocked up the women's equivalent in 1995 and, likewise, this still holds today.
(Top image: Doha Stadium Plus Qatar at Flickr.com / CC BY 2.0)