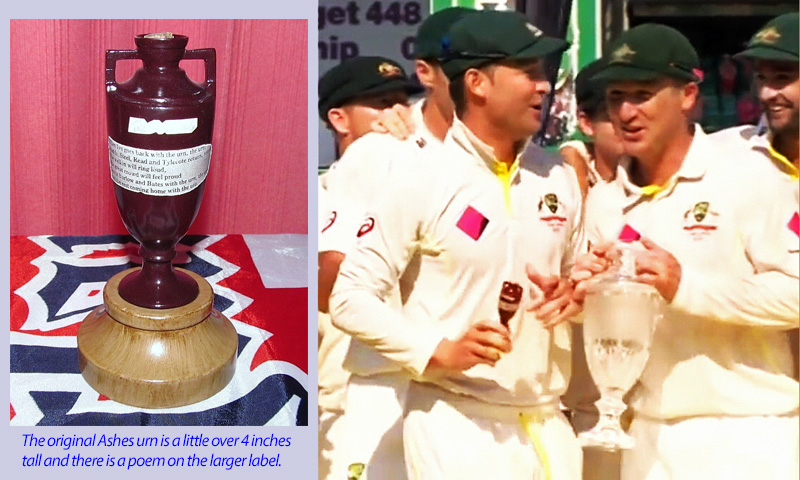 England's greatest cricketing rivals are Australia and 5-match Test series with them are known as 'The Ashes' because of a wry joke started in 1882 by an English journalist and embellished by the wife of an Australian baron. The series takes place every 1½-2½ years during English/Australian summers and honours are fairly even between the two teams.
The joke was a tongue-in-cheek obituary for 'English cricket' penned by 'Sporting Times' reporter Reginald Brooks (1854-88) after Australia achieved their first victory over England on English soil, albeit by just 7 runs. The obituary whimsically stated "R.I.P. The body will be cremated and the ashes taken to Australia". Brooks's father Charles (1816-74) had previously campaigned for the right to be cremated, which was illegal until 1902.
England then toured Australia three weeks later with better success and at one venue the captain, Ivo Bligh (1859-1927, later Lord Darnley) was presented in jest with a small 'urn' containing ashes (thought to be of a lady's veil) by the hostess and her children's governess, Florence Morphy. Ivo and Florence were later married and they treasured the little terracotta urn until Ivo's death, whereupon Florence donated it to the Marylebone Cricket Club Museum. Winners of The Ashes actually receive Waterford crystal replicas.
(Images LtoR: David Holt at Wikimedia Commons / CC BY-SA 2.0, Gena1201 at Wikimedia Commons / CC BY-SA 3.0)