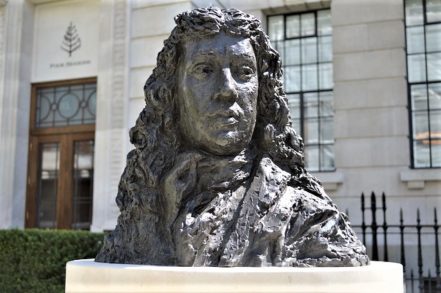 Samuel Pepys (1633-1703) was born and lived most of his life in London and began writing his famous diary every day from lst January 1660 until nine years later, when he stopped for the sake of his eyesight. The diary gives us a personal view of life in London at the time. Pepys also witnessed and wrote about three disasters – the Great Plague of 1665, the Great Fire of London in 1666 and the English navy's defeat to the Dutch in 1667.
Pepys was a high-ranking naval administrator and helped to improve the navy's standards. He has been described as "the father of the modern Navy" (Royal Museums Greenwich, 2018). The image above is of his statue in the City of London.
He left his complete library of 3,000 books, including his diary, to Magdalene College at the University of Cambridge.
(Image: Matt Brown on Flickr.com / CC BY 2.0)