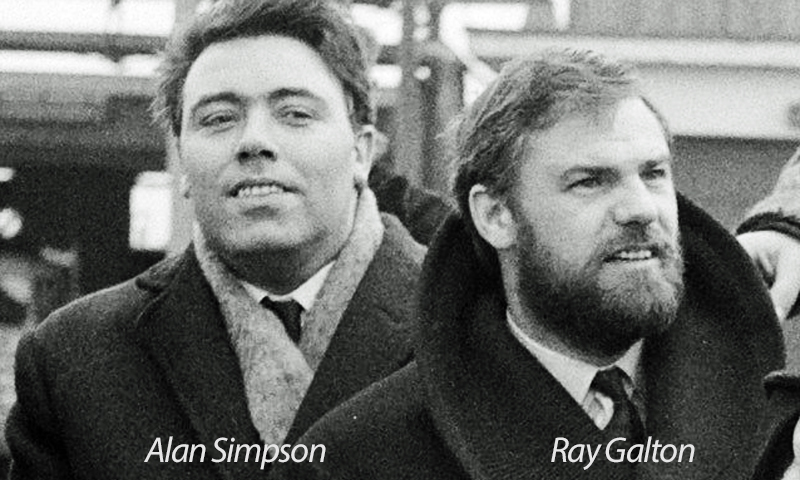 Raymond (Ray) Percy Galton (1930-2018) and Alan Francis Simpson (1929-2017) were both Londoners, both 6'4″ tall, both had tuberculosis as teenagers and, as was soon apparent on becoming friends in hospital in 1948, they shared the same sense of humour. This was borne out over the ensuing decades in their exceptional comedy script-writing partnership. Both received OBEs in 2000 "for services to TV comedy and drama".
They approached the BBC as novices and there they were given time to hone their skills working with numerous different comedians. Luckily, one of these was Birmingham-born Tony Hancock (1924-68). 'Hancock's Half Hour' (1954-9) was one of Britain's first radio sitcoms. Galton and Simpson developed the characters a lot over its 102 episodes, but kept as central Hancock's role as a thick-skinned but gullible, pretentious, mostly out-of-work actor. In 1956 the show moved to television and this had 63 episodes up to 1961. 'The Blood Donor' (1961) is perhaps the most famous of these.
Then came another classic, 'Steptoe and Son' (1962-74), which started on television, then went to radio from 1966. Galton and Simpson's innovation was to cast dramatic actors, not comedians, which lifted the comic pathos to new heights and allowed them to infuse social issues into the various calamities in the rag'n'bone men's humble lives.
(Top image [cropped]: Hugo van Gelderen at Wikimedia Commons / Public domain)