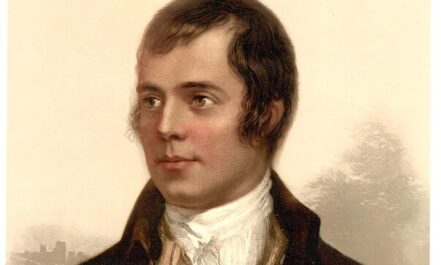 Robert (Rabbie) Burns (1759-96) was born in Ayrshire to tenant farmers, but found he had a gift for writing poetry and lyrics. His friends held a tribute dinner in the cottage of his birth on the night of what would have been his 42nd birthday. Thus began the annual Burns Night commemorations on 25th January.
Burns's most popular work was in the Scottish dialect. His literary success helped finance his passion for women and whisky. He fathered 12 children and died aged 37 after lying drunk by the roadside one rainy night. Whisky, haggis, bagpipes, poems and witty put-downs directed by the men to the women and vice-versa are all features of Burns Night Suppers.
The traditional running order is:-
Piping in the guests.
Host's welcome.
Piping in the haggis.
'Address to a Haggis' (1786) recited by host who stabs it and holds it aloft.
Toast to the haggis before it is piped back to the kitchen.
3-course traditional Scottish dinner.
1st entertainment – poem or song.
Speech and toast "to the immortal memory of Robert Burns!"
2nd entertainment.
Toast to the Lassies by the men.
Reply from the Lassies.
3rd entertainment – possibly a Scottish dance.
Vote of thanks.
'Auld Lang Syne' (1788) sung by all.
(Top image: Ashley Van Haeften at Flickr.com / CC BY 2.0)