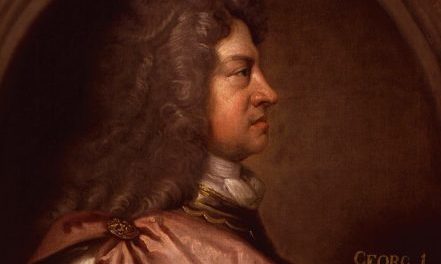 King George I from Germany
King George I (1660-1727) was the first German monarch of Great Britain & Ireland after he skyrocketed up the line of succession, overtaking fifty-one Catholic claimants to the throne. This was due to the Act of Settlement of 1701 which ensured that the monarchy remained Protestant. In selecting him after the death of childless Queen Anne (1665-1714), Parliament took the unusual step of following the female line from a previous monarch, not the male.
George was born and lived in Hanover, Germany, and was unhappily married to his cousin Sophia (1666-1726), whom he incarcerated in a castle for thirty years until she died. Both of them were great-grandchildren of  King James VI&I (1566-1625). George was reluctant to accept the throne as he could barely speak English and the weather was colder than in his homeland.
When he eventually arrived in London in September 1714 he was accompanied by two mistresses and eighteen cooks. His two legitimate children ensured the royal line's continuity but they resented what he had done to their mother. He was described as stubborn, moody and unintelligent, but he ticked other important boxes. He came to depend on the Whigs in Parliament and they were largely in control by the time of his death.
(Image of painting by Sir Godfrey Kneller: Wikimedia Commons / Public domain)