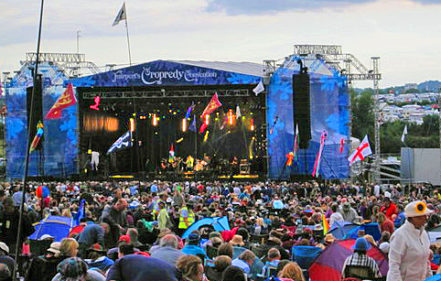 Cropredy is a village in Oxfordshire which plays host every August to a music festival also simply known as 'Cropredy', though its official name is Fairport's Cropredy Convention. It has been running since 1979 as an annual reunion event for the folk rock pioneers, Fairport Convention. By 1985 the band were working together again and 'Cropredy' gradually expanded as a festival to showcase themselves, their friends and groups they like.
Audiences now number up to 20,000 over the Thursday, Friday and Saturday event days. Sunday is spent tidying up, with barbecues and an afternoon cricket match between Fairport Convention and the Cropredy village cricket team. Most of the acts appear on the single stage, but some perform in the gardens of the two Cropredy pubs. Festival-goers are able to camp in the surrounding fields, while others stay in canal boats at Cropredy marina.
Of all the many music festivals in Britain, Cropredy is said to be friendliest and safest for families.
(Top image: Les Hull at geograph.org.uk / CC BY-SA 2.0)