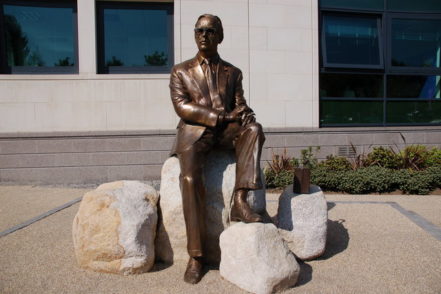 The portable defibrillator
Born in Hillsborough, near Lisburn, Professor J. Frank Pantridge, CBE, MC (1916-2004) is regarded as a pioneer of emergency medical treatment. He was a prisoner-of-war in WW2 and narrowly survived but with a heart condition for the rest of his life. On returning to Northern Ireland he began studying cardiology, including an invaluable year on electrocardiography in the USA.
He became a cardiac consultant at the Royal Victoria Hospital in Belfast and a professor at the nearby affiliated Queen's University. He set up a specialist cardiology unit but saw that having patients transported into the Hospital in order to treat them with a defibrillator wasted too much time and many died in the ambulance. One day in 1964, he and his colleagues were called to treat a man having a heart attack on the pavement outside the Hospital. Professor Pantridge used a trolley to wheel out the 11-stone defibrillator, plugged in inside. This undoubtedly sparked the idea for the portable defibrillator.
The first one was powered by two car batteries and saw its first successes in 1966. In the years that followed, it reduced to less than 7lbs. in weight and is now computerised, user-friendly and available in many public locations.
(Top image of Professor Pantridge statue: Albert Bridge at geograph.ie / CC BY-SA 2.0)