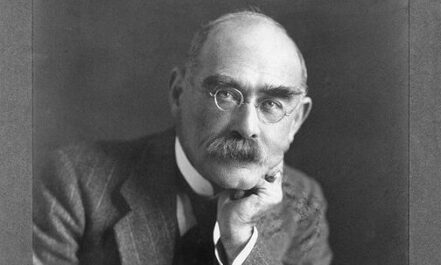 Joseph Rudyard Kipling (1865-1936) was born in 'British India', a place he loved, settled awhile in the USA with his American wife Carrie, but lived mostly in England. He had a life full of "Triumph and Disaster", to borrow a phrase from his celebrated poem of 1895, 'If-', eventually published in 1910.  The complete line ~ "If you can meet with Triumph and Disaster and treat those two impostors just the same" ~ is etched above the players' entrance at Wimbledon's Centre Court.
He began work as a journalist but after his first book, 'Plain Tales from the Hills" (1888) was successful, he embraced a writing career, producing classics such as 'The Jungle Book' (1894), 'Kim' (1901) and the 'Just So Stories' (1902). He was awarded the Nobel Prize in Literature in 1907.
However, two of Kipling's three children died tragically: his 6-year-old daughter Josephine from pneumonia after a transatlantic sea voyage in 1899 and his 18-year-old son John in war-torn France in 1915. Kipling had pulled strings to get John enlisted despite the lad's poor eyesight. After this he never wrote children's stories again. Kipling's ashes are in Westminster Cathedral and his house in Sussex, Bateman's, is open to visitors courtesy of The National Trust.
(Top image: Wikimedia Commons / Public domain)