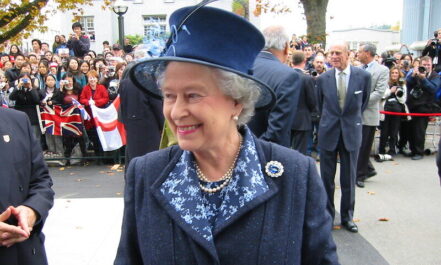 Queen Elizabeth II (1926-) has had three official Jubilees so far, with another one due in 2022. The previous longest-reigning sovereign, Queen Victoria (1819-1901), died 4 years after her Diamond Jubilee (60 years on the throne), whereas our current Queen unofficially celebrated her Sapphire Jubilee (65 years) in 2017. In 2022 she will reach her Platinum Jubilee (70 years) and an extra day's Bank Holiday is planned for the festivities.
The Silver Jubilee (25 years) in 1977 set the tone for the milestones to follow ~ the Golden Jubilee (50 years) of 2002 and the Diamond in 2012. Each has seen street parties, Union flags a-plenty, parades, the lighting of beacons, open-air concerts, fireworks, balcony appearances at Buckingham Palace and fly-pasts. Famously in 2002, Concorde flew down The Mall in formation with the Red Arrows, a feat they performed on just a handful of occasions before.
In 1977 the Queen and Prince Philip (1921-) made special visits to Canada, Australia and New Zealand. In 2002 they toured the UK. By 2012 the Prince was in poor health; however, the royal family took part in a huge river pageant on the Thames, even though it rained and was windy. Each Jubilee has been very well supported by the public, who take the opportunity to show their appreciation for the Queen's dedication.
(Top image: Michael Chu at Flickr.com / CC BY-NC-ND 2.0)