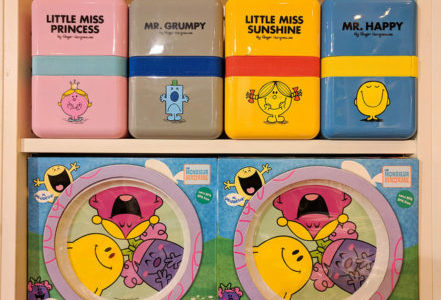 Mr. Men and Little Misses
Father and son, Roger and Adam Hargreaves, created the Mr. Men and Little Miss series of children's books. Roger (1935-88) was born in Yorkshire and always enjoyed drawing cartoons. In 1971 his son, Adam (born in 1963), famously asked him what a tickle looked like, which was the inspiration for the very first book ~ 'Mr. Tickle'. Adam was destined to continue as author-illustrator of the brand after his father's death.
The first Mr. Men books were so successful that just three years after they began, an animation series appeared on TV. The Little Miss books were launched in 1981 with 'Little Miss Bossy'. Currently, there are ninety-one different characters and each one is named after a personality trait. The light-hearted story goes on to show the pros or cons of displaying this type of behaviour, often with the help of other Mr. Men or Little Miss characters.
The brand has seen sales of 100,000,000 books worldwide, with off-shoots such as comic strips, songs, advertising adaptations, merchandising, Google doodles and London Underground posters. Children's literature has always had a moralising side, popular with parents, and a delightfully humorous side, loved by children, and the Mr. Men and Little Misses tick both of those boxes.
(Image: Allan Leonard at Flickr.com / CC BY NC 2.0)