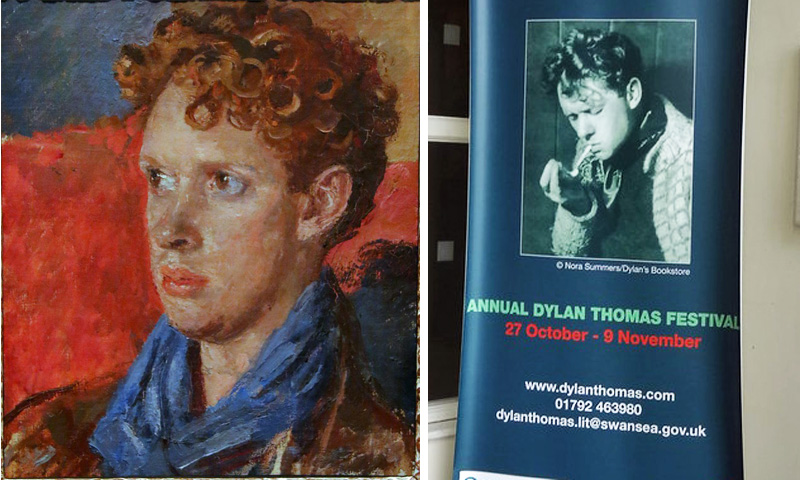 The most famous Welsh poet is surely Dylan Marlais Thomas (1914-53), whose most prolific period came in his late teens. Heavy drinking sadly played a part in the Glamorgan-born writer's death when only 39 while on a Dickens-style recital tour of the U.S.A.. This video exemplifies the type of dramatic effect he brought to these performances:-
Thomas began his career as a journalist but soon took up writing poetry and prose full-time. His innovative use of language took a little while for critics to grasp, but it was highly evocative in its unusual juxtapositions, e.g. "you snored like a brewery", "by owl-light", "with sprinkling eyes and wind-cherried noses", "wood of weathers" and "garden of time". He made use of the different meanings of particular words by repeating them in close proximity and a listener is almost overwhelmed by the constant, sometimes jumbled, flow of imagery.
His most well-known pieces are the poems 'And Death Shall Have No Diminion' (1933), 'Do Not Go Gentle Into That Good Night' (1952) and 'A Child's Christmas in Wales' (1955) and his play 'Under Milk Wood' (1954). He mishandled his finances, however, so embarked on the lucrative N.American tour, only to catch pneumonia and die after a night of alcoholic carousing.
(Top images LtoR: Augustus John's 1937 painting by Steve Knight at Flickr.com / CC BY 2.0, photo at the Dylan Thomas Museum by Jim Forest at Flickr.com / CC BY-NC-ND 2.0)