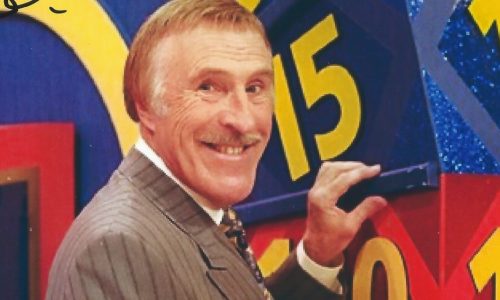 Rightly dubbed 'Mr. Entertainment', Sir Bruce Forsyth, CBE (1928-2017) had a show business career from age fourteen to just a couple of years before his death. He was the consummate professional who was never stuck for words and who inspired confidence in his fellow performers.
Born in Middlesex, he started dancing lessons at age eight after seeing his hero, Fred Astaire, on the cinema screen. Sir Bruce was first seen on television in 1939 in a talent show and a few years later took to the stage with an act called 'Boy Bruce, the Mighty Atom', in which he sang, danced and played the accordion. He was multi-talented but is perhaps best remembered for his catchphrases and his genial, teasing way with TV game-show contestants. His comic exasperation with their efforts was pure genius.
His first big break was as host of 'Sunday Night at the London Palladium' from 1958. This was his favourite theatre and he continued taking roles in musicals and even a Disney film, 'Bedknobs and Broomsticks'. From 1971 he was the host of the hugely popular 'The Generation Game' and after a few more game-shows he starred in 'Strictly Come Dancing' from 2004 to 2013.
(Top image: Michael Sharpe at Flickr.com / Public domain)