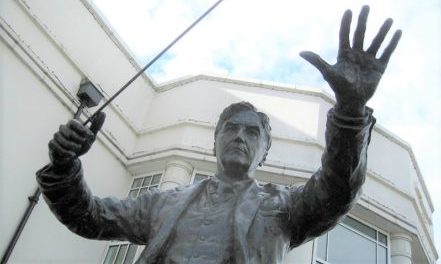 Ralph (pronounced 'Raif') Vaughan Williams (1872-1958) was born in Gloucestershire and wrote his first song at age 6. His father was a vicar, his great-uncle was Charles Darwin and his grandfather was Josiah Wedgwood III, Darwin's brother-in-law. Coming from such a high-achieving family, it is unsurprising that Vaughan Williams took time to consolidate his skills before setting his music before the public. When he did, it received enthusiastic acclaim and he was credited with giving English classical music a renewed international status.
He lived through two World Wars, lying about his age in order to serve in the first one. His most famous piece, 'A Lark Ascending', was completed in 1914 but had to wait several years before being performed. His influences were many and varied, from traditional English folk songs which he collected himself, to orchestration techniques from French composer Maurice Ravel, from whom he had lessons in his mid-30s.
He wrote nine operas with nine different styles and tones. The seventh, 'Sinfonia Antarctica' (1952), was based on his music for the film 'Scott of the Antarctic' (1948) and includes a wind machine. He also wrote chamber music, operas and music for ballet, choirs and church. He is said to have refused a knighthood.
(Top image of the Ralph Vaughan Williams statue outside Dorking Halls Theatre: mira66 at Flickr.com / CC BY 2.0)