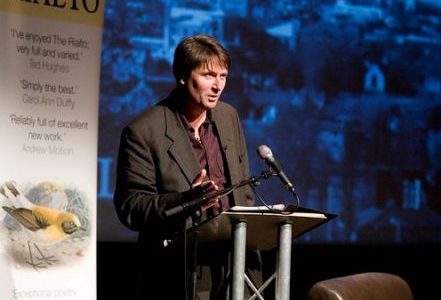 The Poet Laureateship is an honorary royal appointment of a poet who is recognised as contributing to the national literary body of work. Wordsworth, Tennyson, Betjeman and Hughes have all held this honour. The first Poet Laureate was John Dryden, installed by King Charles II in 1668, but he was dismissed twenty years later by the next King for being a Catholic. In the chain of Poet Laureates since then, all but the last three have held the post until they died.
When Sir Andrew Motion was chosen in 1999, he asked for it to be a ten-year term only. On his departure in 2009, he said that he was glad he did it, but he was glad it was over. The Poet Laureate is expected, but not obliged, to write poems for national and royal occasions, so there is a degree of widespread appraisal involved.
He was followed by Dame Carol Ann Duffy, who was the first female Poet Laureate. The current post-holder is Simon Armitage (pictured above) and he is the twenty-first. There is an annual salary of £5,750 and along with this traditionally comes a butt (equivalent to four barrels) of sherry, though some Poet Laureates have received a cash alternative.
(Image: National Centre for Writing at Flickr.com / CC BY-NC-SA 2.0)