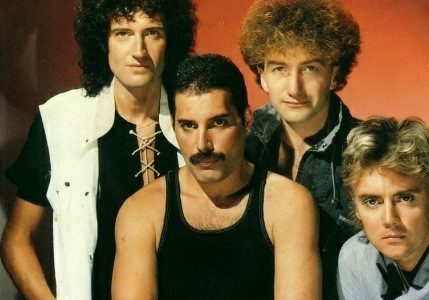 The rock band Queen was formed by lead vocalist extraordinaire, pianist and guitarist Freddie Mercury (1946-91), lead guitarist Brian May (1947-), bass guitarist John Deacon (1951-) and drummer Roger Taylor (1949-) when they were students in the late 1960s. Through hard work and bucketfuls of talent, by 1972 they had been signed up to a recording contract. They quickly rocketed to success and over the next nineteen years created twenty amazing albums and numerous unforgettable hit singles.
They started tours of the USA, Canada and Japan early on in the band's career, in later years adding Europe, Australia, New Zealand and South America. Their biggest-selling singles were the unusual 'Bohemian Rhapsody' (1975) and 'Another One Bites the Dust' (1980), said to be a frequent choice for funeral music! 'A Kind of Magic' (1986), 'Don't Stop Me Now' (1979), 'We Will Rock You' (1977) and 'Radio GaGa' (1984) are among other songs that have left an indelible mark.
Even when Freddie Mercury was slowly dying of AIDS, Queen continued working and Freddie maintained his tremendous vocal technique and flamboyance to the end. Three times they received awards for 'Outstanding Contribution to British Music' ~ the Ivor Novello in 1987, the British Phonographic Industry in 1990 and, after Freddie's death, The BRIT in 1992.
(Top image: kentarotakizawa at Flickr.com / CC BY 2.0)