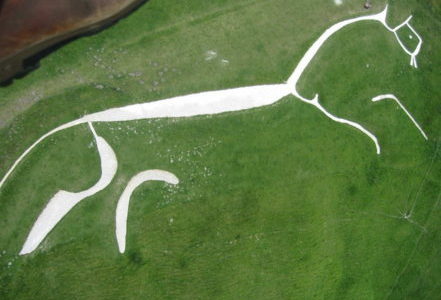 Our most famous and oldest chalk-cut hill figure is the White Horse near Uffington. Unlike later equine hill figures, this one is quite stylised, even modern in its design. It measures 360 ft. in length and can be seen best from above or from two or three miles away on another hilltop. Its purpose is unknown and it does not seem to have been placed for onlookers on the ground, as it is on a shallow slope near the top of Whitehorse Hill, rather than the steeper slope below.
In the seventeenth and eighteenth centuries, there were 'scouring festivals' every seven years, when people would gather to clean up the chalk trenches, followed by a party at the nearby Uffington Castle hillfort remains. This, along with the natural shifting of soil over the centuries, has likely resulted in it now being smaller than the Bronze Age original.
Today it is maintained by the National Trust on behalf of English Heritage. Tourists can picnic on the site and walk around it, but unofficial drones are not permitted! As it can be spotted from twenty miles away in good weather, during WW2 it was covered over so as not to aid enemy warplanes.
(Image: Dave Price at geograph.org.uk / CC BY-SA 2.0)