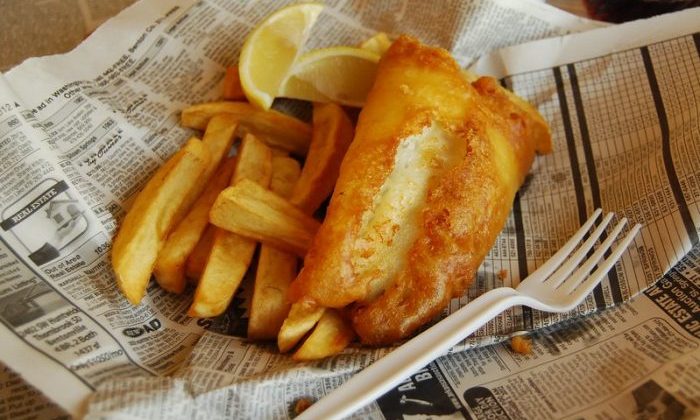 Fish and chips is a traditional British takeaway meal consisting of fish deep-fried in batter and potato cut into strips and deep-fried as well. In fact, the combination of these two foods is British, but they were introduced separately to this country by European immigrants. It is said that fish fried in flour, or in flour plus water, was a Jewish dish, while the potato recipe was Huguenot.
Britain's large fishing industry supplied the fish and 'fish'n'chips' became established as a seaside treat in the 1860s. Its popularity grew and by the 1930s there were over 35,000 shops all over the country, selling fish and chips to take away. They would be cooked to order and wrapped in paper, with salt and vinegar on request. A 'chippy' is the slang term for a fish and chip shop.
Today, there are fewer chippies and considerably more takeaways offering other types of food, but 'fish'n'chips' remains a British classic and you can still see customers queuing for their regular culinary treat each week. Inevitably, a vegan version was introduced in 2018 in London.
(Image: LearningLark at Flickr.com / CC BY 2.0)