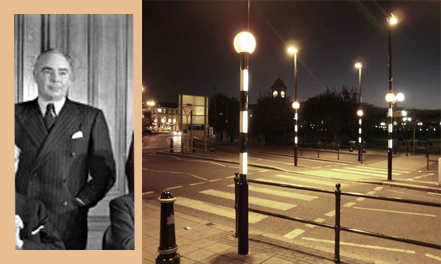 The flash rate of Belisha beacons (0.75 seconds on, 0.75 seconds off) might have been chosen by a psychologist, as it is both reassuring for pedestrians and a calm alert for drivers simultaneously. For their invention we have to thank Lord Isaac Leslie Hore-Belisha (1893-1957) from Devon. When he was appointed Minister for Transport in 1934, crossing the road had become rather hazardous, particulary since 1930, when all speed limits were abolished for non-compliance!
Hore-Belisha's Road Traffic Act (1934) introduced the all-important driving test and established the 30mph speed limit for built-up areas. These new safety measures were part of the updates in the second edition of 'The Highway Code' (1935) and they have saved untold thousands of lives and injuries.
Belisha beacons today have posts up to 16½ft. tall that are manufactured from steel or aluminium and applied with anti-corrosion paint in black and white bands similar to the zebra crossings by which they stand, one on each side. The globes are made of polyethylene and the whole item is designed to be weather- and vandal-proof. Additional spotlights may be fitted to illuminate the pavement and there may even be an LED halo around the globe to make it even more conspicuous in brightly-lit municipalities.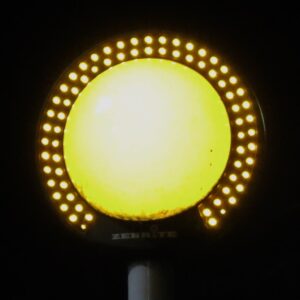 (Top images L to R [cropped]: W. Bellamy at Wikimedia Commons / CC BY-SA 4.0 & Rossographer at geograph.ie / CC BY-SA 2.0)