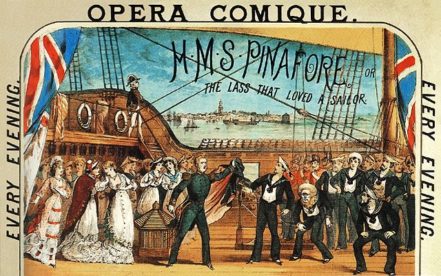 The Gilbert & Sullivan partnership was between Sir William Schwenck Gilbert (1836-1911) and Sir Arthur Seymour Sullivan (1842-1900), both from London. Gilbert tried his hand at a military career, then went into law, but his true vocation was in writing, whether that was as a journalist, humorous poet, author, playwright, dramatist or, of course, writer of opera libretti. Sullivan was a prodigious musician, singer and composer, even studying at the Royal Academy of Music at the age of only fourteen.
They first worked together briefly in 1871. This was the same year in which Sullivan composed the stirring tune for the hymn 'Onward Christian Soldiers'. Their real collaboration began in 1875 with 'Trial by Jury'. Their breakthrough opera was 'H.M.S. Pinafore' (1878), then 'The Pirates of Penzance' (1879) and 'Patience' (1881). Their winning run continued and included their biggest success, 'The Mikado' (1885), as well as 'Ruddigore' (1887), 'The Yeomen of the Guard' (1888) and, finally, 'The Gondoliers' (1889).
Audiences were at first shocked by the novel satire but the light-hearted style of music softened the delivery and they soon came to adore the wit, irony and clever social commentary of the pieces. Gilbert and Sullivan's work has remained popular as supreme examples of comic opera.
(Top image: Wikimedia Commons / Public domain)