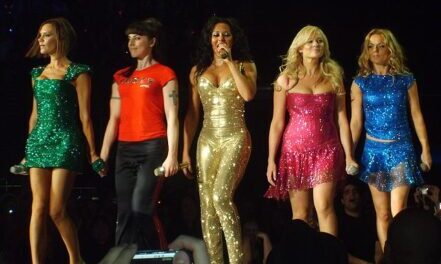 At a time when women in the UK had achieved gender equality in many spheres, The Spice Girls came along to push the boundaries of acceptance in the music industry. Assembled in 1994 and disbanding six years later, their phenomenal worldwide success saw sales of 85 million records, the most of any all-girl singing group. They adopted an ethos of 'girl power', which suited their exuberant, brash image, exemplified in their playful groping of Prince Charles at an event in 1997.
The distinct personalities of the five members were the key to their marketing appeal. These were:
'Ginger' ~ Geri Halliwell (1972-) whose departure in 1998 caused shock and heartbreak among all Spice fans;
'Sporty' ~ Mel C(hisholm) (1974-) known for her tracksuit-bottom outfits;
'Posh' ~ Victoria Adams (1974-) who married footballer David Beckham, the media then dubbed the couple 'Posh & Becks' and she later became a fashion designer;
'Scary' ~ Mel B(rown) (1975-) who, with Ginger, was a leader of the group;
'Baby' ~ Emma Bunton (1976-), the favourite of many of the youngest girl fans.
Their first hit, 'Wannabe' (1996) was no. 1 in 37 countries. Most of their singles reached no. 1 in the UK but continual success led to battles of ego, including the sacking of their 'pop genius' manager, Simon Fuller, by fax.
(Top image of 2008 reunion performance: Kura.kun at Wikimedia Commons / CC BY-SA 3.0)