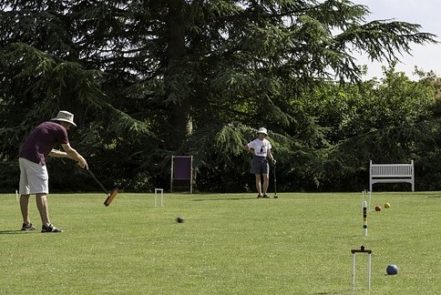 Croquet originated in the British Isles and was showcased at London's 1851 Great Exhibition by John Jaques (1820-90). The family firm, Jaques of London, still makes croquet sets today, costing up to £6,000. The equipment includes mallets, balls, hoops and pegs that are inserted into the ground. The balls must pass through each hoop in the right sequence and direction.
Jaques wrote the first rule-book in the early 1860s, at which point it became more than a garden party game beloved by Victorian ladies in particular, as well as young couples who, when a ball rolled off the lawn, had an excuse to disappear into the bushes! Needing a manicured lawn, croquet gained a reputation for being part of the posh scene. However, some say that underneath its genteel exterior lies a fiercely competitive, dubious side where the opportunity to cheat can be tempting.
Lewis Carroll was a friend of the Jaques family (his niece married John's son) and he loved their new creation, hence the inclusion of a croquet game in his book 'Alice's Adventures in Wonderland' published in 1865. Plastic croquet sets are available today as children's toys and they can be seen at summer fêtes as a fund-raising activity.
(Image: maxpixel.net)