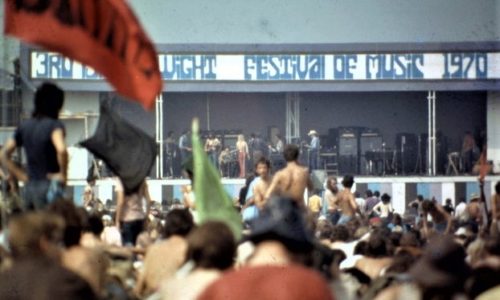 The Isle of Wight Festival
In 1968, around 15,000 people paid 25 shillings each to attend the first Isle of Wight Festival, featuring Jefferson Airplane, T-Rex and Fairport Convention. The organisers managed to book Bob Dylan for the 1969 event, attracting ten times more spectators, including members of The Beatles. The 1970 five-day spectacular remains the biggest festival ever, with well over 600,000 fans attending. However, the problems resulting from such a massive crowd meant that there were no more Festivals for thirty-two years.
It was a chance to see big names such as The Who, Jethro Tull, The Doors, Joan Baez, Moody Blues, Joni Mitchell, Leonard Cohen, Chicago, Emerson Lake & Palmer and, famously, Jimi Hendrix, who would die a few weeks later. All these and more for just £3 a ticket, although it was soon declared free entry when people started viewing the show from the adjacent hilltop or simply smashing down the fences.
Hecklers, drugs, anarchists and logistical nightmares seemed to have put an end to the Isle of Wight Festival series, but future festival co-ordinators learnt lessons. The current Festival has run successfully every year since 2002. Tickets cost £175-£195 and there are camping facilities, discounts for residents, family arrangements, etc., and the event is shorter, with audiences only up to around 70,000.
(Image: Neil Theasby at geograph.org.uk / CC BY-SA 2.0)