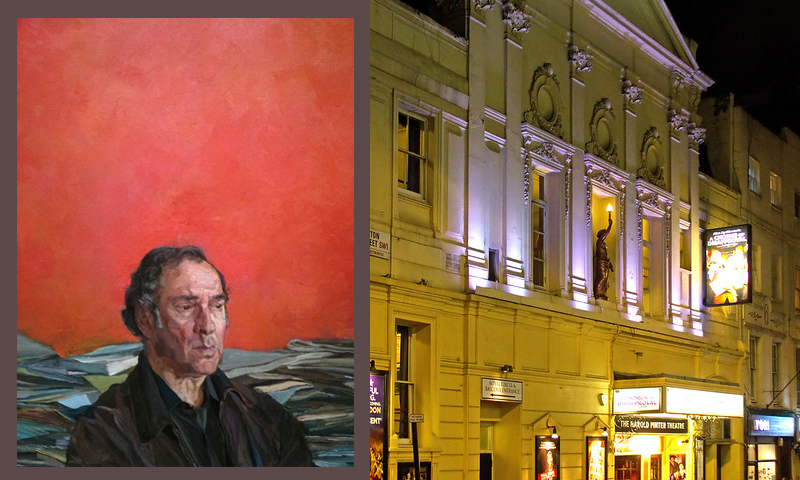 Londoner Harold Pinter (1930-2008), writer for stage, screen and print, actor and director, was awarded the 2005 Nobel Prize in Literature. This was one of many accolades, including the Hermann Kesten Medallion "for outstanding commitment on behalf of persecuted and imprisoned writers" in 2001, highlighting his political activism. Indeed, his Nobel acceptance speech was devoted to a sharp criticism of the USA's foreign incursions post-WW2.
After the briefest of training, Pinter set out as a repertory actor touring the British Isles in 1948-59 but by 1956 he had started writing his own plays. His first full-length play, 'The Birthday Party' (1957), was too avant-garde for theatre-goers at the time and it closed after one week. However, its elements of unnerving mood, enigmatic symbolism and speech-silence patterns created a kind of poetic 'performance art' which was characteristic of Pinter's future work and gave rise to the adjective 'Pinteresque'.
Pinter wrote 29 plays, had 17 screenplays filmed, including 'The French Lieutenant's Woman' (1980) and directed 27 productions. Pinter's revolutionary style left the audience hanging on every word in an intriguing, haunting, open-ended fragment instead of a complete story with unnaturally eloquent, explanatory dialogue. He is thereby regarded as having pioneered the 'modern drama' genre, to which 'thought-provoking' is a commonly applied description.
(Top images LtoR:- portrait by Justin Mortimer: El Bingle at Flickr.com / CC BY-NC 2.0 & London's Harold Pinter Theatre: Tony Hisgett at Flickr.com / CC BY 2.0)