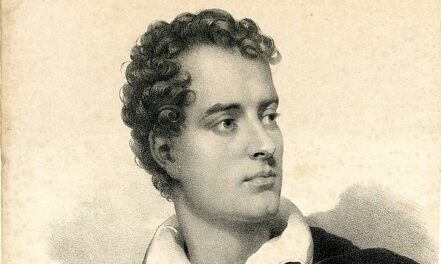 Lord Byron (George Gordon, 1788-1824) gave English literature the 'Byronic hero', seen in the novels of the Brontë sisters, for example. This figure has a rocky past which has made him cynical and moody, but he is dashing and devilishly attractive with a propensity for strong romantic attachment. He was created out of Byron's own life experiences, which were plentiful, to put it mildly.
Described as a latter-day playboy-superstar, Byron travelled Europe and died of fever in Greece at just 36. Though London-born he was brought up by his erratic mother in Aberdeenshire then returned south to be educated at Harrow and Cambridge. Despite his deformed lower right leg he 'got around' and took innumerable lovers. He was briefly married and had one legitimate child, computing pioneer Ada Lovelace. Tellingly, Byron's publisher burned the manuscript of his memoirs after his death!
Byron's most famous poems include 'She walks in beauty' , 'Childe Harold's Pilgrimmage', 'Don Juan' and 'So, we'll go no more a-roving', with the first of these hailed as an exemplar of Romanticism:
She walks in beauty, like the night
Of  cloudless climes and starry skies;
And all that's best of dark and bright
Meet in her aspect and her eyes; ….&c.
(Image: Wikimedia Commons / Public domain)