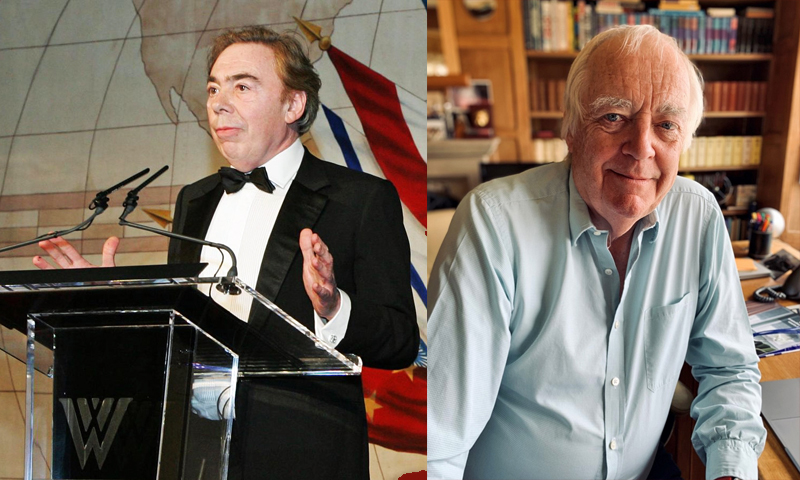 Andrew Lloyd Webber & Tim Rice
Lord Andrew Lloyd Webber (1948-) from London and Sir Tim Rice (1944-) from Buckinghamshire, who met in 1965, revived British musical theatre with three remarkable hits in the 1970s; namely, 'Joseph and the Amazing Technicolour Dreamcoat', 'Jesus Christ Superstar'  and 'Evita'. None went directly to a stage production in those early days ~ even 'Evita' was a concept album first. Apart from a specially commissioned show called 'Cricket' (1986) for the Queen's 60th birthday celebration at Windsor Castle, the two then worked separately with equal, or even greater, success.
Rice, the lyricist and more inclined towards pop music, collaborated with Benny and Björn from ABBA to create 'Chess' (1984) and teamed up with Elton John for Disney's 'Lion King' (1994). He had previously worked with American songwriter Alan Menken on Disney's spell-binding 'Aladdin' (1992) and the awards were a-plenty for these and other projects.
Lloyd Webber, the world's most commercially successful composer, proved his passion for musical theatre by buying six London theatres including the Palladium and ploughing all profits back into their upkeep. Among his weighty portfolio of award-winning shows, 'The Phantom of the Opera' (1986) has a top spot in musical theatre history. 'Cats' (1981), 'Starlight Express' (1984) and even the UK's 2009 Eurovision song are also under his belt.
(Images LtoR: Andrew Lloyd Webber by qwertyytrewqqwerty at Wikimedia Commons / CC0, Tim Rice by Thecharmschool/W. at snl.no / CC BY SA 4.0)