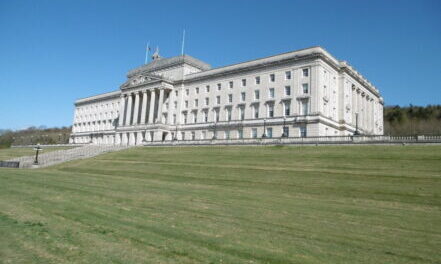 The Northern Ireland Assembly
Ever since its legal creation in 1921, Northern Ireland has had its own Parliament, or Assembly, but its operation has never been without difficulties. This has resulted in several temporary suspensions or even the shutting down of proceedings for years at a time. In the current Assembly model, the top post is shared equally between the First Minister and the Deputy First Minister, one of whom will be unionist, the other nationalist.
There are 90 Members of the Legislative Assembly (MLAs), 5 for each of 18 constituencies, and they must register as  'Nationalist', 'Unionist' or 'Other'. There are 9 Departments dealing with matters such as education, health, justice and agriculture. The Ministers and Committee Chairs are allocated according to the D'Hondt formula for proportional power-sharing among all the parties.
The very first elected Members gathered together on 7th June 1921 at Belfast City Hall and there was a Royal inaugural ceremony two weeks later. There was another in 1932 for the completion of work on the new 'Parliament Buildings', a rather stately addition to Stormont Castle on a 235-acre site near Belfast. The nationalists criticised it as a symbol of Ireland's permanent partition. In contrast, the unionists saw it as solid confirmation of Northern Ireland's new status.
(Image of Parliament Buildings: Mike Faherty at geograph.ie / CC BY-SA 2.0)