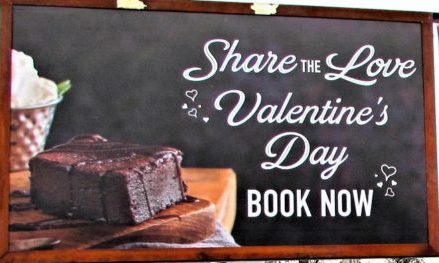 St. Valentine's Day is the 14th February and it has evolved in recent times from being a day to celebrate romantic love, especially secret admiration, to a day for mother-child love as well.
St. Valentine became associated with 'romantic love' in Roman times and was said to have been executed on 14th February for officiating at secret marriages. In the 20th century, the tradition grew of sending an anonymous card on Valentine's Day to the person you secretly loved and it became a day of many emotions, ranging from joy to desolation at not receiving any cards at all. In time, that's where the mums stepped in, giving cards to their teenage children to make sure they would not be disappointed.
Today, there are few anonymous cards. Girlfriends and wives receive cards, flowers, gifts and dinner-by-candlelight in packed-out restaurants where as many tables-for-two have been squeezed in as possible. It is a huge day for retailers and one of the busiest of the year for restaurateurs.
(Image [cropped]: Jaggery at geograph.org.uk / CC BY-SA 2.0)