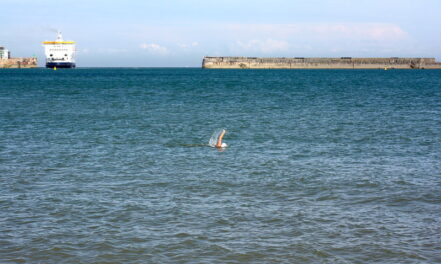 An open-water swimmer needs exceptional mental strength to attempt to swim the English Channel, the North Channel or even, as South African-born Surrey resident Wayne Soutter can testify, just north of the North Channel. His outstanding feat, in 2012, is the first time anyone has succeeded in crossing what was thought to be an impossible route from the Mull of Kintyre to Ballycastle.
Soutter, like many other Channel swimmers, was raising funds for charity. All other official North Channel swims have been between Donaghadee in Co.Down, N.Ireland and Portpatrick in Dumfries & Galloway, Scotland, which is further down the Channel. The first recorded completion was in 1947 by Tom Blower (1914-55) from Nottingham. Only a few hardy souls have swum both the North and the English Channels, one of whom is the amazing Alison Streeter, MBE (1964-).
Surrey-born Streeter was the English Channel's 'Queen' until 2021, with 43 crossings. The 'King of the Channel' continues to be Michael Read, MBE (1941-) from Sussex with 33 crossings. It is by far the most popular of the Channels, being warmer, and is attempted by solo swimmers and relay teams every summer, though they must navigate their way through shipping and patches of oil, plastic, jellyfish, lumber and even the occasional refrigerator!
(Image: Kyle Taylor in the English Channel at Flickr.com / CC BY 2.0)