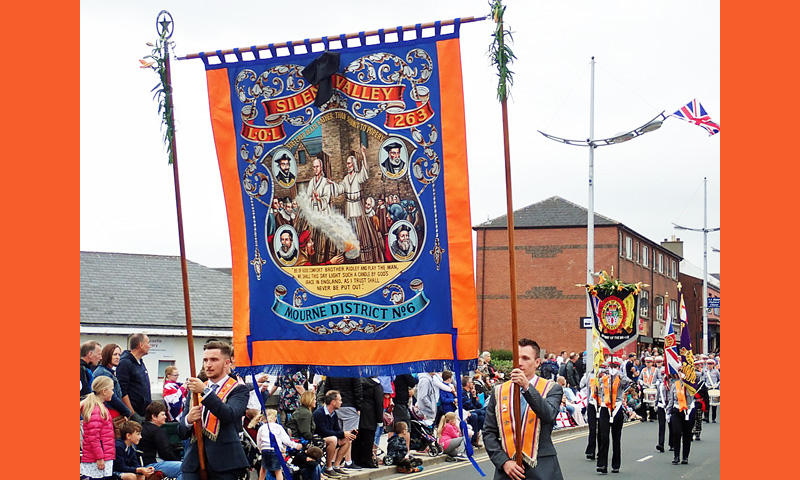 The Battle of the Boyne was fought on 1st July 1690 on the banks of Ireland's River Boyne at Oldbridge. King James II & VII (1633-1701, Catholic) of England, Scotland and Ireland had been deposed in the Glorious Revolution of 1688-89 after fleeing to France but returned to Ireland to raise an army against his replacement, King William III (1650-1702, Protestant) who was also his nephew and son-in-law!
William had the advantage of better equipment and although he was injured when he brazenly picnicked within firing range of the Jacobites (supporters of James), the Williamite troops were victorious. The Jacobites were finally crushed the next year in the Battle of Aughrim on 12th July. However, the former Battle was perhaps more notable for being led by both Kings in person and, aided by a retrospective re-dating of the 1st to the 12th following the calendar shift of 1752, the Battle of the Boyne eventually became the main focus of 'the Twelfth' celebrations.
A bank holiday in Northern Ireland, it features Protestant parades and marching bands. With changing demographics the traditional routes have sometimes caused an upset in Catholic communities. Nevertheless, the Orange Order organisation (established in 1795) continues to run multiple family-friendly, festive events across the region.
(Image showing an Orange lodge banner in a march on the Twelfth/Orangemen's Day 2018: Eric Jones at geograph.org.uk / CC BY-SA 2.0)