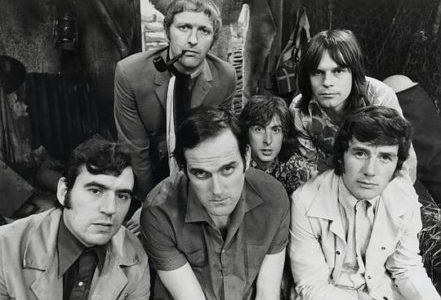 Monty Python's Flying Circus
Two graduates from Oxford (Michael Palin and Terry Jones), three from Cambridge (John Cleese, Graham Chapman and Eric Idle) and one from the Occidental College in Los Angeles (Terry Gilliam) formed the comedy troupe Monty Python's Flying Circus in 1969. The BBC had granted them a slot on television, thanks to comedy writer Barry Took, and all their university-style humour then went into producing three-and-a-half series up to 1974.
Their influences included 'The Goons' and 'Beyond the Fringe' and they had separately performed and written scripts for the Cambridge Footlights and the Oxford Revue. The TV show, interspersed with Gilliam's collage animations, overturned the norms of the day, including the idea that a sketch should have a punchline. It became extremely successful and fans revelled in knowing off-by-heart the lines to the Dead Parrot sketch, for example, or singing along to the Lumberjack Song.
The team's matured wackiness then took the form of three innovative and hugely successful fims ~ 'Monty Python and the Holy Grail', 'The Life of Brian' and 'The Meaning of Life'. Although these attracted a little controversy, they contain classic moments, such as Brian's mother shouting from her window "He's NOT the Messiah. He's a very naughty boy!".
(Image: it.wikipedia.org / Public domain)