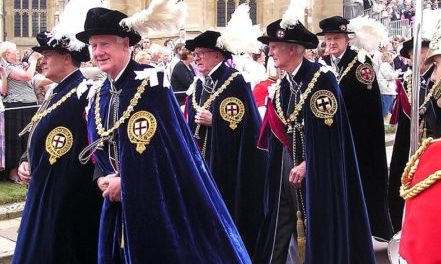 The Most Noble Order of the Garter is the oldest recognition of outstanding service to the nation or the monarch. It was instituted in 1348 by King Edward III (1762-1830) and was part of his establishment of St. George as England's chivalrous patron saint. Having just twenty-four members plus British and foreign royalty, it is an exclusive club carrying a great deal of prestige.
Their motto is "Honi soit qui mal y pense" and there is a story that relates this to a gallant gentleman returning a dropped garter to its lady owner. Whether or not this is true, it is known that on ceremonial occasions, including Garter Day in June, members wear a blue garter just below the left knee. They also have a George badge and St. George's Chapel in Windsor Castle is their church.
Since 1946 the monarch alone has decided who to invite to fill any vacancies that occur among the twenty-four upon death. The men are called Knights Companion of the Garter and have the letters KG, while the women are called Lady Companions and their letters are LG. Owing to the type and extent of life experience required, members tend to be aged from around 70 upwards.
(Image [cropped]: Philip Allfrey at Wikimedia Commons / CC BY-SA 2.5)