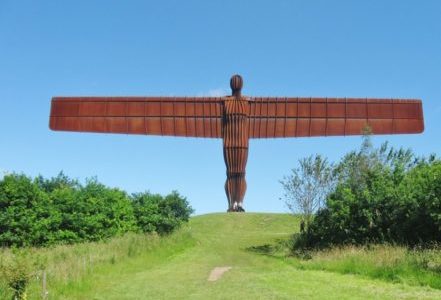 The 'Angel of the North' is a monumental red-rust steel sculpture in Gateshead, adjacent to the A1. Prior to its installation in 1998, some argued that the £800,000 cost would be better spent on public services. However, today it attracts millions of tourists every year and it is an iconic symbol of British engineering ingenuity.
Designed by Sir Antony Gormley as an 'industrial angel', it stands on a mound over a disused colliery and resembles a vertical aircraft with its tail in the ground. The figure is 65ft. high and its wings span 177ft. It weighs 205 tons and its top-heavy structure and exposed location presented a considerable challenge to engineering firms Ove Arup & Partners and Hartlepool Steel Fabrications Ltd. The solution involved placing fifty-two massive bolts around the feet and building a 590-ton foundation inside the mound.
The 28-mile journey from Hartlepool to Gateshead took nearly five hours, with the body on a 48-wheel trailer and some road signs and lampposts having to be temporarily removed to make way. In true British fashion, a few months after its completion some pranksters hoisted a football shirt onto it and on Christmas Eve 2018 another group managed to put a Santa hat on its head.
(Image: Derek Voller at geograph.org.uk / CC BY-SA 2.0)