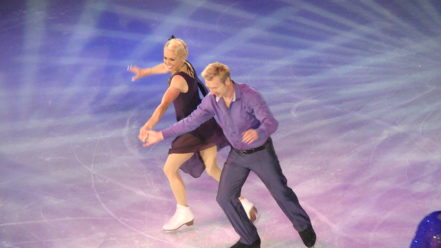 Jayne Torvill, OBE (1957-) and Christopher Dean, OBE (1958-), from Nottingham, are the most successful couple in ice dancing history. They were brought together in 1975 by their first coach and through hard work and dedication they were soon competing at the highest levels. In 1976 ice dancing was included in the winter Olympics for the first time, setting the scene for Torvill and Dean's most famous achievement just eight years later.
They became British champions in 1978, but Jayne continued working in an office and Christopher training to be a policeman right up until 1980. The following year they became European and World champions. Their professionalism and desire to push the boundaries of their sport meant they remained at the top, year after year. Seeking new ideas, they visited the ballet, theatre and circus. Their 'Mack and Mabel' and 'Barnum' routines were thus inspired.
Going into the 1984 Olympics, they were clear favourites and did not disappoint. They scored the highest mark ever with their 4 minutes 28 seconds long 'Boléro' performance, skating only from 18 seconds into the music to meet the time regulations. In 1996, Yo Yo Ma said that "they did for ice skating what Bach did for the cello".
(Top image: vagueonthehow at Flickr.com / CC BY 2.0)