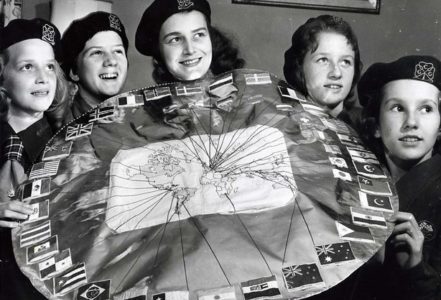 Thinking Day, or, as it has been known since 2000, 'World Thinking Day', has been celebrated each year by Girl Guides and Girl Scouts since 1926. Both Lord Robert Baden-Powell (1857-1941) and Lady Olave Baden-Powell (1889-1977), Chief Scout and Chief Guide respectively, were born on 22nd February, so this day was the perfect choice for the event. Its purpose, following WW1, was to link all the Guides and Girl Scouts across the world in friendship and comradeship in a communal 'think'.
In the UK there is no separate Girl Scout organisation, although girls started to be permitted to join the boys' Scouting movement in 1990 and have done so in large numbers. In recent years certain boys have been allowed to join Girlguiding, so there is no longer a female-only principle. Thinking Day is therefore celebrated by a variety of Girlguiding and Scouting units, including the younger sections ~ the Brownies, for instance.
In 1932 Lady Baden-Powell helped set up the Thinking Day Fund, which collects contributions from the girls and donates them to projects and Guide/Scout units in need. Since 2005, Thinking Day has been themed and today there is an additional aim, which is to "take action and speak out on issues we most care about" (WAGGGS, 2019).
(Image: Girl Guides of Canada at Flickr.com / CC BY 2.0)