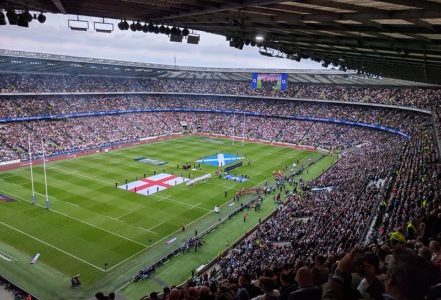 The annual 'Six Nations' rugby union championship began in 1883 as the Home Nations Championship contested by England, Wales, Ireland and Scotland. It was a turbulent beginning with abandoned competitions in 1885, 1887 and 1889 amidst administrative disputes and occasional crowd pitch invasions.
In 1910, France gained entry and it became the 'Five Nations' (except for 1932-39, during which time France was expelled). In 1972 the championship was abandoned again, as two teams refused to play in Dublin. In 1973, there was a unique tie result, when all five teams won two games and lost two games. In 2000, Italy was admitted, making it the 'Six Nations'.
There are several single-match cups under the umbrella of the Six Nations ~ the 'Triple Crown', the 'Auld Alliance Trophy' and the 'Calcutta Cup', for example. Until 2017 the points system was simply: two for a win, one for a draw. Now, it is:-
four for a win
two for a draw
one bonus point for scoring four or more tries
one bonus point for losing by seven or fewer match points
three bonus points for winning all your matches, called the 'Grand Slam', in order to avoid a team topping the table through maximum bonus points but losing one match, thereby earning twenty-two points.
(Image: Dan Dyer at Flickr.com / CC BY-NC-SA 2.0)