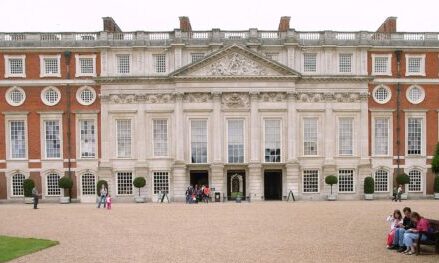 King Henry VIII (1491-1547) owned dozens of castles, mansions and palaces. One that remains today is the magnificent Hampton Court Palace in Surrey. Not every subsequent monarch lavished as much money and time on it as Henry, but King William III (1650-1702) and, to a lesser extent, King George I (1660-1727) were two who did. Henry massively extended it to accommodate his 1,000-strong court; William re-built half of it in the Baroque style; while George added new royal apartments and converted the Great Hall into a theatre.
The 60 acres of gardens include the famous hedge maze, commissioned by William, making it the oldest in Britain. There are also 750 acres of parkland, called Home Park, with 8,000 trees, a deer herd and some rare species of plants and wildlife. The palace itself covers 6 acres and is a Grade I listed building. It was opened to the public in 1838 by the young Queen Victoria (1819-1901).
Its enormous size and opulence has been used as an impressive statement of power. However, the enormous cost of its upkeep ensures that what was once Henry's favourite summer playground and William's overt display of his and Queen Mary II's (1662-94 ) regal promotion, will remain a historic monument funded by millions of visitors.
(Image: Steve Cadman at Flickr.com / CC BY-SA 2.0)