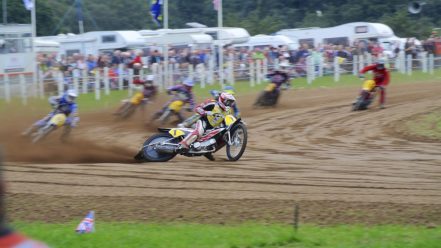 Speedway is the sport of racing motorbikes with a specification that would be very dangerous on the public highway ~ that is to say, no brakes and one gear! The 500cc engines are fuelled by methanol and must weigh at least 77kg. A crucial element of speedway equipment is the rider's boots, which are specially manufactured with extra padding and reinforcement. The left has a flat sole on which a steel shoe is strapped for the purpose of making the cornering manoeuvre demonstrated here:-

The technique of allowing the back wheel to swing out is called 'broadsiding' and it can bring up a lot of dust since the tracks are of loose material such as scalpings.
The popularity of speedway in the UK grew quickly from the first races in 1927 to its height in 1949. New Zealand-born emigré Johnnie Hoskins, MBE (1892-1987) played an important part in its promotion as a thrill-a-minute spectacle in which there are usually fifteen heats contested by two teams of seven. Each heat has two riders from each team. They make four anti-clockwise laps of the track, which takes about a minute. The last heat is for the top riders on the night, to determine the overall winner.
(Top image: Ian Kirk at Wikimedia Commons / CC BY 2.0)