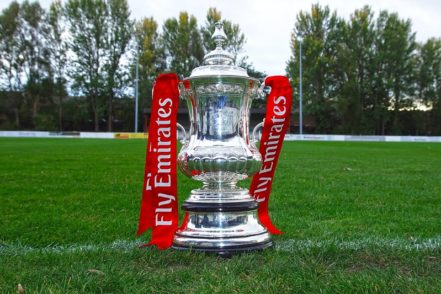 The Football Association of England and Wales (F.A.) was founded in 1863. With the advent of the railways making team travel easier, Charles Alcock (1842-1907) had the novel idea in 1871 of an Association-wide cup competition for all F.A. member clubs, big and small. Today, more than 730 such clubs take part, with qualifying rounds starting in August, whittling down to the final two who will play each other at Wembley Stadium ten months later.
The F.A. Cup's prestige peaked in the mid-to-late twentieth century. For many years, F.A. Cup Final day, on the first or second Saturday of May, was the last match of the season. As football's annual showpiece event, it took centre-stage on both television channels for most of the day. Its traditions included the crowd singing the hymn 'Abide with Me' before kick-off, which was always at 3pm. For a while, there was even a fad for teams appearing on 'Top of the Pops' to sing their own F.A. Cup song!
However, Manchester United initiated the devaluation of the Cup in the 1999/2000 season by not entering, even though they were the Cup-holders. Following that, they and other top teams have fielded reserve line-ups right up to the semi-finals and final.
ARVE Error: src mismatch
provider: youtube
url: https://www.youtube.com/watch?v=4OKKskhyBS8&t=10s
src in org: https://www.youtube-nocookie.com/embed/4OKKskhyBS8?start=10&feature=oembed
src in mod: https://www.youtube-nocookie.com/embed/4OKKskhyBS8?start=10
src gen org: https://www.youtube-nocookie.com/embed/4OKKskhyBS8


(Top image: Ken Fitzpatrick at Flickr.com / CC BY-NC-ND 2.0)