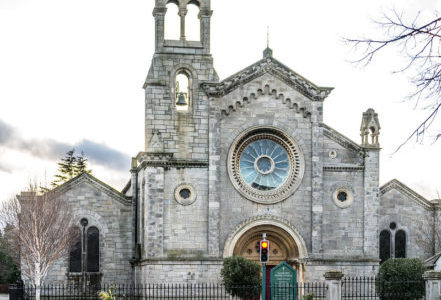 The Church of Ireland covers both Ireland and Northern Ireland, since it was established long before the partition. It traces its roots to the legacy of the Irish patron saint, St. Patrick, in the fifth century. It sees itself as Catholic and Protestant, though it may not be equally so, having much more of a Catholic appearance.
It differentiates itself from the Roman Catholic church in that it does not take the Pope in Rome as its head. Instead, it has two Archbishops, with the Archbishop of Armagh holding the post of President of the General Synod. Another difference is the adherence to Catholic beliefs as they were before the Reformation and rejection of new dogma brought in after that, e.g. that a belief in the Virgin Mary's 'immaculate conception' and swift journey into heaven is essential for one's own salvation.
They also do not accept the extra books of the Old Testament ~ the 'Apocrypha' ~ as part of their holy texts, though they may use them for reference. They do, however, offer confession, give Holy Communion and celebrate saints' days with all the accompanying rituals and regalia one would expect. There are 375,000 followers, with two-thirds of those in Northern Ireland.
(Image: William Murphy at Flickr.com / CC BY-SA 2.0)